Discussing paintings with Bryan Mark Taylor, Doug Morgan and Kim Lordier
This past Saturday March 23, 2013, the San Francisco Bay Area Chapter of the California Art Club held it's spring quarterly paint-out off Old Lakeville Highway #3 in Sonoma. Approximately 50 painters attended which is the largest local paint-out we have ever held. It was great to start the Spring painting season with so many people. This event was hosted by Karen Leoni along with special guest CAC signature artist Doug Morgan.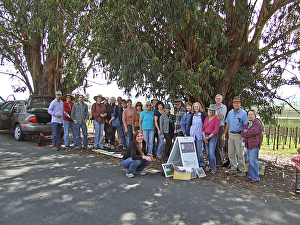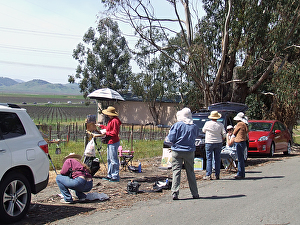 The morning began with a people gathering with coffee, bagels and doughnuts which is unique to quarterly events. After, everyone spread out along the 2 mile road with ample pull-offs all along the way. Barns, ranches, sheep, miniature horses, eucalyptus groves, white fencelines and spectacular views of the valley below. We also had 70 degree spring weather. It was great to see so many CAC members out together as we rarely get to see each other.
Some

noteable

artists from our Chapter that were also in attendance were Paul

Kratter

, Bryan Mark Taylor, Kim

Lordier

, Christin Coy, Kay Carlson. There were no demos, but lots of laughs and camaraderie I think the highlight of the day was when the little horses came over to the wire

boundary

fence and began scratching their bunns in unison to help shed their long and shaggy winter coats.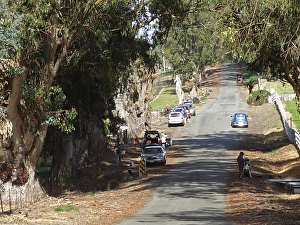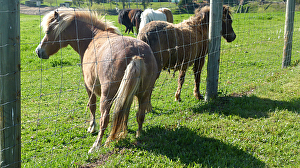 Here are a couple of wonderful pastel paintings that Bill Cone posted on Facebook yesterday.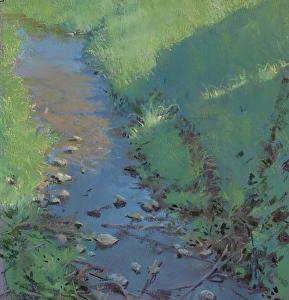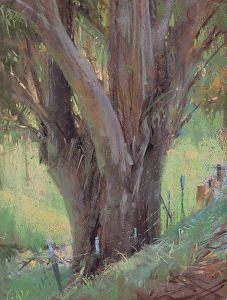 And a couple of my paintings too.