This past weekend Christin and I were fortunate to be part of a three day workshop atl'Atelier aux Couleurs: The Art Academy in Petaluma with the gifted artist Kevin Courter. The workshop was titled "NOCTURNES" because he often paints with this low-light theme in mind. While most people would consider his approach tonal… he thinks his nocturnes are far less muted than most tonal painters because he uses more intense colors in the backgrounds and skies.
His approach is quite unique and begins with a monochromatic under-painting by mixing dark transparent colors to create the foundation of the painting. Using Q-Tips, he pulls of delicate amounts of paint from the masses to indicate the highlights and shape of the trees, marshes, etc. He spends quite a long amount of time on this process and considers it crucial to be successful at this stage or the painting will often not work out. It's almost as if he was using a scratch-board process. He begins applying color. He mixes in a large puddle and pulls all of his colors from here using very subtle shifts. It's crucial to have a compressed palette in nocturnes because the night light flattens the color temperature.
I don't take many workshops, but I believe that by occasionally exposing myself to the techniques, methods and thought processes great painters… these things will absorb into my knowledge base and merge into my process however it should. It is tempting to try and copy his paintings and style… but I consider this counter-productive. Simply watching and absorbing his demos was a treat. He is a very generous painter/teacher and I have a newfound appreciation for his work (which I always liked anyway). There were many other wonderful artists in attendance and the paintings that were created were put up on the holding shelves during the three days… in the end, there were so many fantastic creations that it was even difficult to pick out the original Courters'.
Here are the three paintings I created at the workshop. I'm pleased with all of them.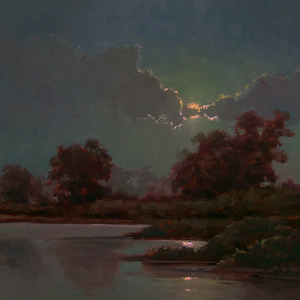 Refuge Moon - 12x12 oil - by Richard Lindenberg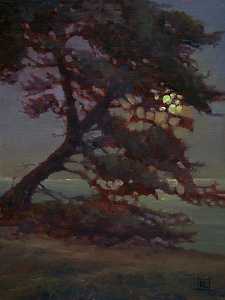 Moonlit Cypress - 12x9 oil - by Richard Lindenberg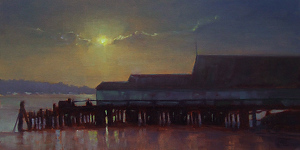 Bodega Bay Moon - 8x16 oil - by Richard Lindenberg